MOVIECRAFT'S BELL SCIENCE VID'S
MC-146 ALPHABET CONSPIRACY 1959. A wonderful Bell Telephone Science Hour, supervised by Jack L. Warner.
The
story of human language told through an Alice in Wonderland story, complete with Hans Conried as the Mad Hatter who wants to do away with the alphabet. Cheryl Callaway plays Alice, with Dr. Frank Baxter who reveals the science of linguistics is far from boring and humdrum. In both live-action and animation this video explores dialects, origin of languages throughout the world, and how sound is added to film. Explore dialects, travel the world, see how sound is put on film, and much, much, more. The "Mad Tea Party" is a blast! Animation (directed by Fritz Freleng) and live action, a treat for all ages. 55 minutes COLOR $19.95
MC-262 GATEWAYS TO THE MIND 1959. An excursion through the senses - touch, smell, taste, sight and sound with Dr. Frank Baxter. Discover that grasshoppers can hear with their stomachs, fish can taste with their bodies, and sometimes things we see aren't what they appear to be. Learn about the functioning of the human senses and what science has learned about them. Animation and live action. Part of the Bell Telephone Science Series. 55 minutes COLOR $19.95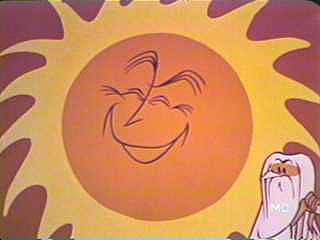 MC-053 OUR MISTER SUN 1956. Travel through a world of science, magic, fantasy and imagination as you visit with father time, the sun, and discover their secrets. No baby boomer science class was complete without a film hosted by Dr. Frank Baxter. Produced as a Bell Telephone Science Hour, the cast includes Eddie Albert with the voices of Lionel Barrymore and Marvin Miller. All this and written by none other than Frank Capra! Dr. Research takes us through a world of science, magic, fantasy, and imagination. A magnificent color science adventure from the mid-'50s. 55 minutes COLOR $19.95

.
MC-301 UNCHAINED GODDESS 1958. Dr. Frank Baxter and Richard Carlson host this fabulous Bell Telephone science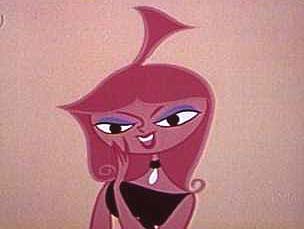 adventure expertly directed and produced by Frank Capra. Animation and solid technical background is used to unfold the mysteries of the weather. A true science classic for young and old, it actually makes meteorology fun! Meet "Meteora: The Unchained Goddess (The Goddess of Weather) and her companions Wind, Clouds, and Rain. Hurricanes, tornadoes, and all types of weather phenomena are shown through actual footage and animation done by William T Hurtz. 57 minutes COLOR $19.95
---
Back to the Moviecraft Home Page:
---
Click on the lines below to reach other Moviecraft pages!
Adventure TV Action :
Automotive-Drag Racing, Stock Cars, Vintage & Classic Cars, Trucks :
Bell Science Vid's :
Burlesque, Pinups, and Girlie (Recommended for adults):
Christmas Memories:
Cartoon Rarities:
Circus Fun:
COMEDY: Retro-Comedy to Make You SMILE:
Documentary/ Newsreel Releases from the Moviecraft Archives:
DRAMA: TV Program Drama Classics:
GAME SHOW fun:
Law and Order, Cops and Robbers :
LIVE TELEVISION at it's best:
Morning TV Kid Vid for the child in all of us :
Railroad Rarities-Our Exclusive Releases :
SCIENCE FICTION: TV Science Fiction & Rocky Jones Space Ranger:
Sheenathon-(Sheena, Queen of the Jungle):
Silver Screen Memories:
SOAP OPERAS: Classic Soap Operas From Television's Past :
TV Commercial Classics :
WESTERNS: Rip Roarin' Western Action:
World's Fair Fun :
WAR: Newsreels, Drama, TV, and Features
More new video releases!: